There are different types of sitemaps that we can incorporate into a website to improve the SEO such as HTML or XML sitemaps. This last one, in particular, is an XML file that lists all the URLs of a website. You can easily create one by using a sitemap generator such as FandangoSEO.
Generate instant Sitemaps to improve your indexation
Our sitemap generator allows you to create different types of sitemaps instantly. Once you've crawled a website, you'll be able to download an XML Sitemap automatically. This file is already prepared to be uploaded to Google Search Console to speed up your web pages indexation.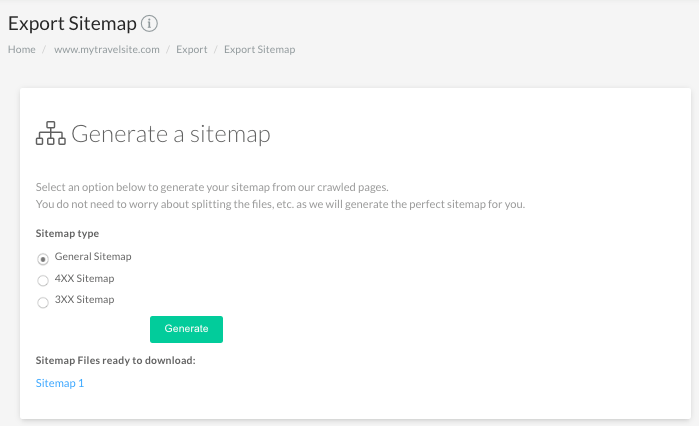 Use of Sitemaps to remove pages & accelerate redirects
This feature also allows you to create specific sitemaps with URLs returning a status of 4xx or 3xx. Send 404/410 pages to request Google to remove them from the search index. Also, you can send you redirects 301 to speed up the process.
Why do you need an XML Sitemap?
It helps search engines find and crawl all the website's pages. In other words, it prevents bots from overlooking relevant pages and ensuring they are all indexed.
By submitting the XML sitemap to Google, you accelerate the indexing process.
It indicates the hierarchy of your pages. This way, the bot knows which pages to prioritize when crawling your site and makes better use of the crawl budget.
You can provide additional information to search engines. For example, you can use the tag to indicate the pages that have been recently modified or the to specify the frequency with which you update the page. This tells them when to crawl particular pages again.
What is a sitemap generator?
A sitemap generator is a tool that crawls the content of a Website to create an XML sitemap. It automatically generates a list of all pages found on the site during the crawl.
How to submit a sitemap
Google does not look at your sitemap every time it crawls your site, but only the first time it finds it. Therefore it is crucial that you alert Google when you update it.
To make Google use your XML sitemap, you can either add it in your robots.txt file or send it to the Search Console.
To specify the path to your sitemap through the robots.txt file, you just need to insert a line like the following.
Example line:
sitemap: https://fandangoseo.com/sitemap_location.xml