The best tool to monitor your Website's SEO performance
Detect any error that might be harming your search engine rank. Broken links? Server errors? Empty or duplicated meta descriptions? Some metrics have a tremendous impact on your SEO performance. 
The Alert System immediately notifies you of any changes in the status of your metrics so that you can address any issues on time. These include nearly 200 metric changes from crawls, logs, and integrations.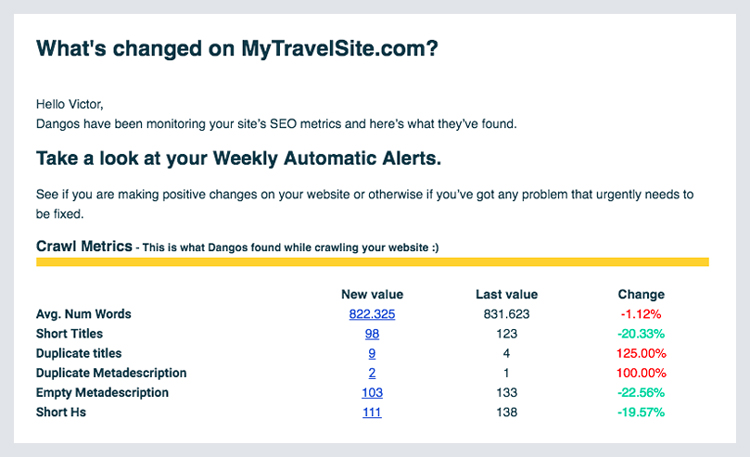 We understand it's not easy to track every metric that may affect your SEO ranking but don't stress. That's what we are here for! With FandangoSEO's Automatic Alerts you won't miss any change in your metric's range. Keep always updated so you can maintain your SEO health and continue working on new strategies to boost your search rankings! Moreover, you can create Custom Alerts that will help you track a specific metric change. Be aware of your Website's status 24/7 with Automatic and Custom Alerts.
How do our Automatic Alerts work?
Decide what kind of notification you want to automatically receive by email. Set the Type of Alert to be notified when changes occur at a determined group of metrics, according to its degree of relevance. In other words, depending on how much impact these metrics have on your SEO ranking: high, medium, or low.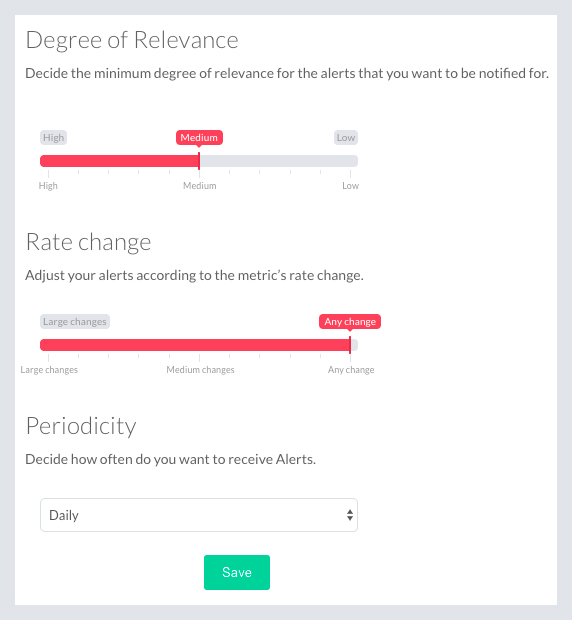 At Alert Change you can also choose the magnitude of the metric's change by which you want to be warned: Large, medium, or little changes. Additionally, you can decide the periodicity of these alerts: daily, weekly, monthly, or anytime the system detects a change.

Are you looking for something more specific?
Your wish is our command!
Custom Alerts
If you want to monitor a specific metric more closely create a Custom Alert. Select any metric and ask to be notified when its rate increases or decreases. You can also specify the exact percentage of the change rate from which you want to be notified.
This can be helpful while you are working on certain aspects of your website. For example, if you've decided to create lots of new content for your blog, you'll need to keep an eye on metrics such as "avg. num of words", "short titles", "duplicates Hs", "empty meta descriptions", etc. Otherwise, if you are working on a new project with your developers, perhaps you want to track metrics like "redirects 302", "page not found (404)", "pages with server errors", etc.

Adjust your Custom Alerts
So Easy, So Practical!
Modify or delete the alerts you've created in an instant. Just click the edit link to adjust a metric's change rate or select the Remove link to delete it. As simple as that!