WordPress has excellent tools to optimize your website for SEO. Select and set your WordPress applications correctly to get the most out of it. Additionally, you can drive organic traffic with extra actionable SEO techniques. Here are ten tips you can follow to boost your WordPress site's rankings. 
1. Speed up your WordPress Website
It is not surprising that the speed of the website is a ranking factor in SERPs. No one wants to wait for a page to load, so Google prioritizes those websites with faster loading time. You can take the actions below to speed up your site considerably.
Choose a good web hosting service. 
Use a WordPress caching plugin such as WP Rocket or WP Super Cache.

Caching plugins helps you improve your web server performance and reduce page load time.

Use CDN (Content Delivery Network).

A CDN enables the rapid transfer of assets needed to upload the content of your website.

Add Custom Excerpts.

WordPress shows your full articles on the homepage and blog pages by default. Using excerpts, you only load a small part of your articles, so your web pages will load faster. Plus, you'll avoid showing duplicated content to search engines.

Optimize your images to load quickly.

Decrease your image file size using plugins such as Smush Image Compression and Optimization.
By carrying out these points, you'll make your website go fast, pleasing both users and search engines. 
2. Install XML Sitemap
Adding an XML Sitemap to your website is something you can do with no effort, and that will bring you a significant impact on your SEO performance. By providing all your website's URLs on one page, you'll make it easier for Google to index your content. Sitemaps are an excellent way to speed up the process of indexation. They allow Search Engines to find all your web pages in no time and understand your website structure. 
You can easily create an XML sitemap by crawling your website with FandangoSEO. Once you've crawled the desired site, you'll be able to export your Sitemap in one click instantly.
Another way to create a sitemap in WordPress is by using a plugin such as Google XML Sitemaps.
3. Check your Search Engine Visibility
WordPress has a built-in option to hide your site from Search Engines. This option was created to give you the necessary time to work on your website content before making it public. It can be a useful feature when working on the SEO of your site.

That said if your website is ready to go public, make sure this box is unchecked so that search engines can crawl and index your pages without problems. To check the Search Engine Visibility option go to the admin area of your WordPress website, Settings -> Reading page.
4. No crawling
errors
Making your website visible for search engines is crucial and just as important is to ensure that Googlebot can crawl the site smoothly. Allowing bots to access the entire website easily will prevent Google from leaving any relevant content unindexed.
Use an SEO Crawler to check the crawlability of your website. In case you use FandangoSEO, run a crawl of your site and go to the section "Crawling errors". You'll obtain detailed information about all the issues that make your Website crawler-unfriendly. Get direct access to where the problem was found, and see the URL that is causing the error and its status code. You'll be able to address the issue in no time. 
Errors that you can find with the SEO Crawler: 
Pages not found (404, 410)

Redirects (301, 302, 307)

Server errors (500, 503)
5. Use the optimal URL structure for SEO
Creating an SEO-friendly URL structure can help your website rank higher on SERPs. A well-designed URL provides information about the content found on its page to both search engines and users. 
To create the perfect URL structure, include the relevant keywords, and remove any additional words that may hinder the understanding of the main topic.
Build your Permalinks (permanent links) meticulously if you want to strengthen your SEO performance. WordPress allows you to create a custom URL structure for your permalinks. Go to the admin area of your WordPress. Then click on Settings > Permalinks. At Common Settings select the Post name option for SEO purposes.
WARNING – Only modify the Permalinks if your website is new. If you change your Permalinks structure in a published website, you will experience a ranking drop in the SERPs.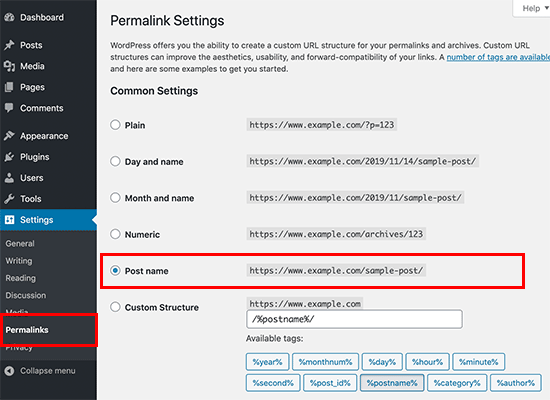 6. Run a Log File Analysis
Analyze your log files to see how exactly your site is crawled by search engine spiders. Learn about GoogleBot's daily hits (visits to your web pages) and make sure your crawl budget is spent efficiently.
By performing a log file analysis, you will also be able to detect orphan pages and website errors. Visualize all the pages that are not returning a 200 status code to GoogleBot.
You can quickly get this valuable information by using FandangoSEO's Log Analyzer. All you need to do is allow the system to access your log files.
7. Optimize your content for SEO
It is just as important that your content is attractive to search engines as it is to users. Optimizing your content for Google is crucial if you want to rank high in the SERPs and drive a nice amount of organic traffic to your website.
One of the most common and easiest ways to ensure search engines consider your writing of high quality is to use the Yoast SEO plugin. This plugin helps you optimize your keywords, check your content, and make it as search-engine-friendly as possible.
Moreover, using an SEO Crawler will provide you extra valuable information to improve your content. For example, you'll be able to review all your anchor texts, content size, meta tags, and header tags. This practice helps you avoid duplicate and empty descriptions.
A Social Cards Plugin is something that you can also easily add to your WordPress website, and that will bring you more organic traffic. By allowing users to share your content, you will be promoting your site effortlessly. 
8. Take care of your linking structure
Your Website's internal linking has a tremendous impact on the indexation of your web pages. Depending on how your pages link to each other, you are indicating Google which pages are of greater or lesser relevance.
A very useful tool to review your linking structure is the FandangoSEO Architecture Map. This feature shows you in one picture how all your pages are interconnected. Make sure your page authority is distributed efficiently through your site and always link your pages to related content.
You also need to personalize the robots.txt file to indicate search engines what pages they should and should not crawl. This way, your crawl budget will be used adequately, avoiding robots to waste their precious time in pages of little importance. Crawl your site with FandangoSEO to review if you have blocked pages by Robots.txt, as well as to check the index and noindex pages.  
9. Secure your WP website
As it could not be otherwise, security is a top priority for Google. It is strongly recommended to enable HTTPS, also known as SSL (Secure Socket Layers). HTTPS encrypts any information going to and from your server, including sensitive data such as emails and passwords.
Install an SSL Certificate and force HTTPS for your website instead of HTTP. This action automatically redirects users to a secure and encrypted version of your site.
When implementing the HTTPS Google suggests:
Using 2048 bit keys

Server-side 301 redirects

Don't block HTTPS pages with Robots.txt

enable HSTS
10. Responsive Website Design
One of the advantages of using WordPress is that you can choose from many beautifully designed responsive themes. Responsive websites considerably improve user experience (UX), so it's something Google takes into account when ranking your site.
Verify that your website is responsive. Otherwise, you may consider switching to a theme with a responsive design that provides a good experience on any device.
If you have any questions about the above points, please leave us a comment. We'll help you to get the most out of your WordPress Website!
Can you think of other tips to optimize WordPress SEO? Share your knowledge below. 🙂
Last Updated on October 15, 2020 by Victor Perez Vas