Performing a fast and effective analysis of your website
When it comes to conducting comprehensive technical audits swiftly and accurately, leveraging powerful SEO tools like FandangoSEO is essential. Our platform equips you with the necessary capabilities to perform in-depth website analysis with ease.
Just by launching a crawl, you get a clear picture of your website architecture so you can easily adjust your internal linking structure. Another great advantage is that you'll quickly detect any crawling issues that make it difficult for GoogleBot to reach your pages. Log analysis is the best way to know how exactly search engines interact with all your pages.
In short, FandangoSEO allows you to detect SEO problems and opportunities for improvement to increase your Google rankings.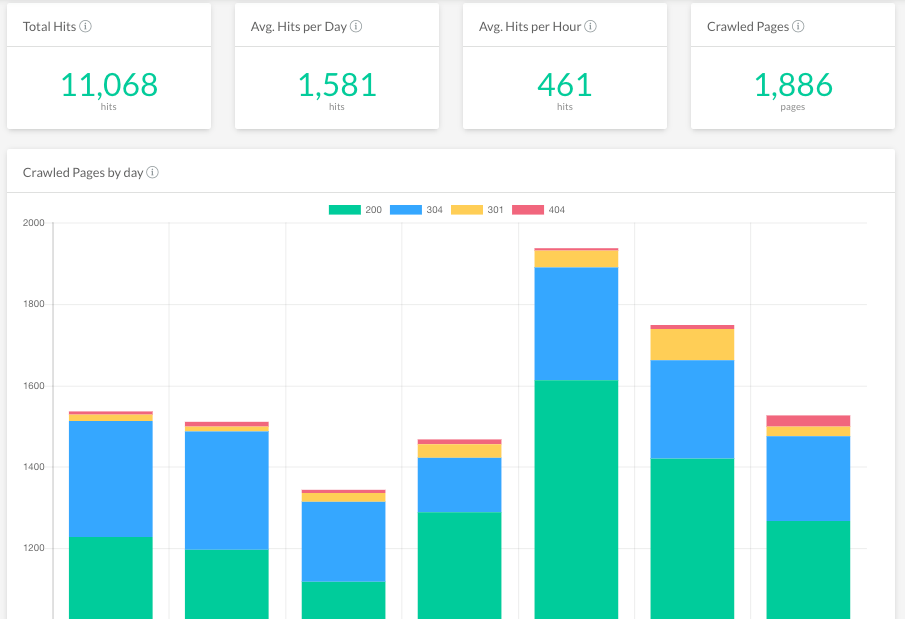 Track Google Bot with Real-Time Log Analyzer
FandangoSEO's Log Analyser gives you the information about GoogleBot Hits in real-time. Learn which are the most visited pages by search engines and the average number of times they visit each page per day. Is GoogleBot spending the crawling budget appropriately? If not, it is time to take action and make the necessary changes that meet your SEO goals.
Detect Crawling errors that harm your Google rankings
Unfortunately, there are quite a few types of errors that may cause GoogleBot not to crawl your site smoothly. They can not only harm your SERPs ranking position, but it can also prevent your valuable site's pages from being indexed. Use our tool to detect any crawling errors quickly and easily!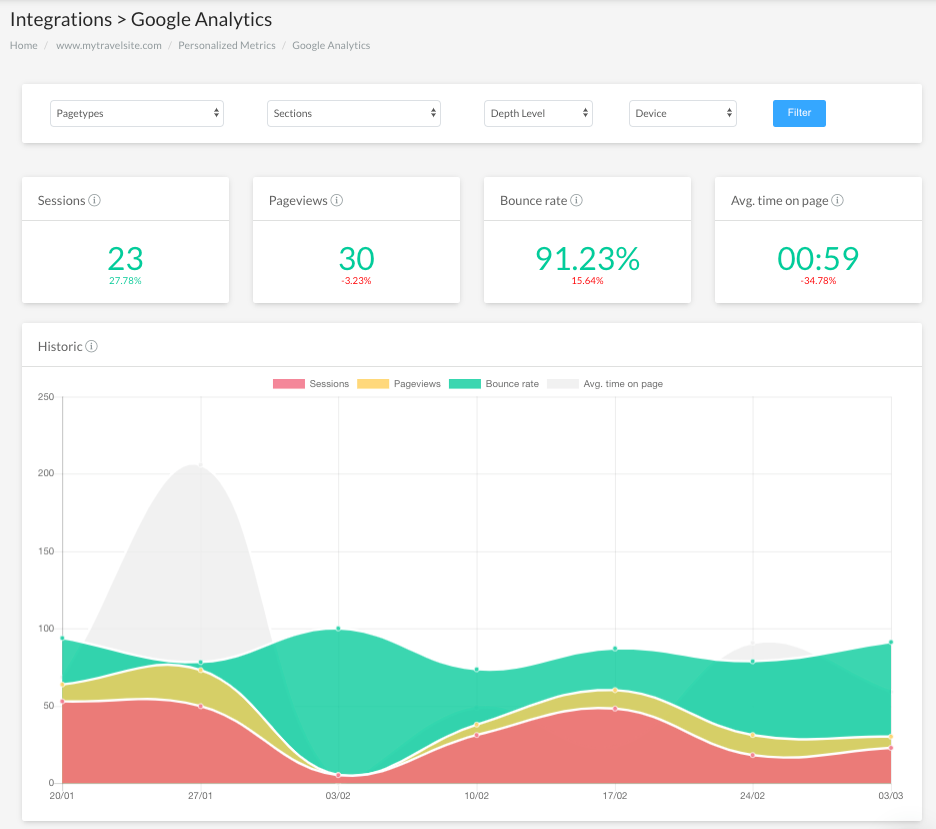 Monitor your SEO performance history
Google Analytics and Google Search Console are essential SEO tools to monitor the performance of a website. SEMrush and SISTRIX are two other useful applications to check your average site's ranking position on SERPs and your keywords ranking position over time. FandangoSEO's integrations allow you to track all these historical data and also obtain this information by your site's PageTypes and Sections.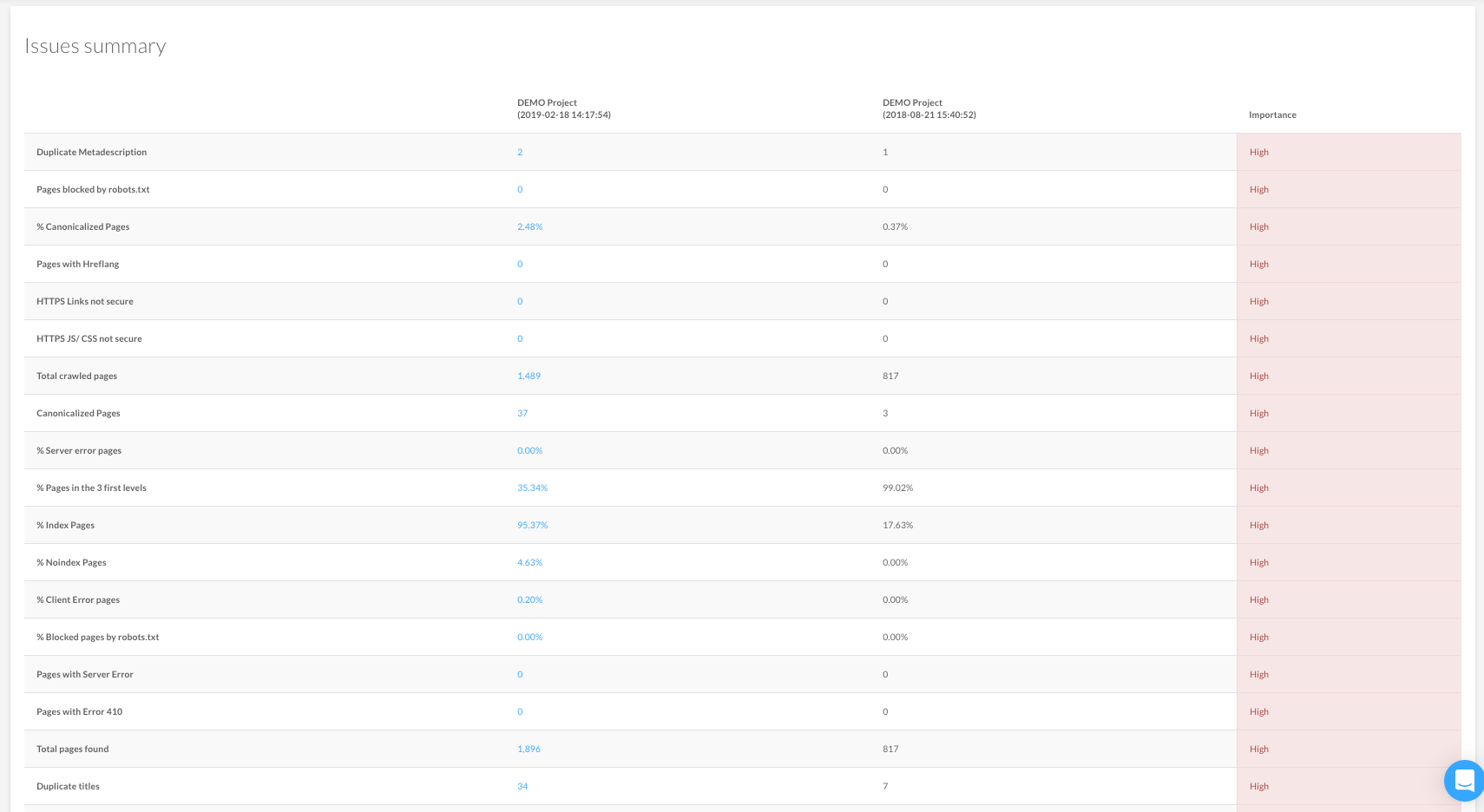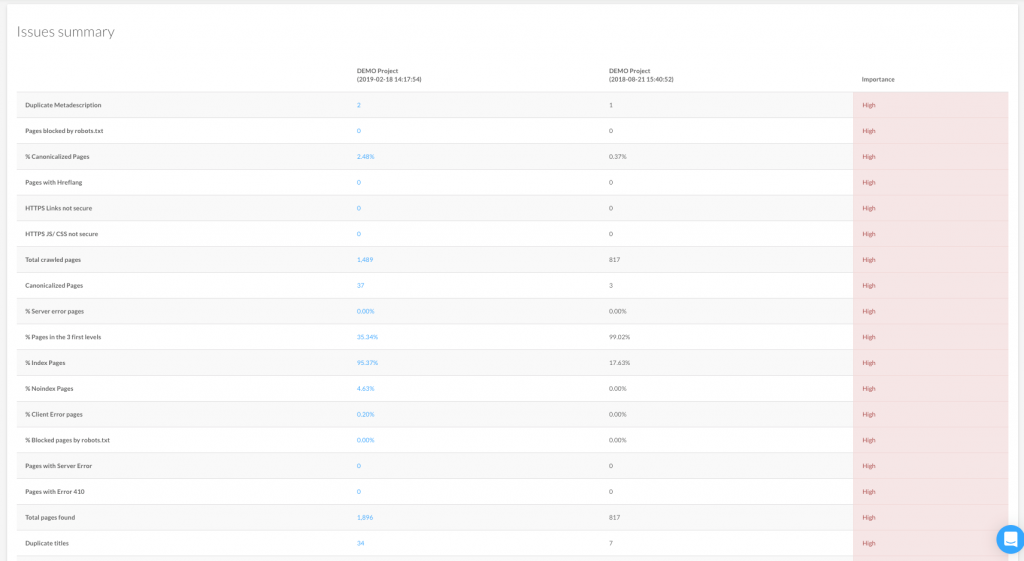 Comparative Analysis
We also have a powerful feature to compare the crawls that you've launched so far. Select any two crawls to obtain detailed comparative reports. Check more than 250 SEO metrics to see if the changes applied to your website are favorable or not. It is something you can also do with your log files.