Effortlessly visualize and comprehend your website's structure with FandangoSEO.
Regardless of the size of your website, our powerful solution allows you to examine the entire structure in a single, intuitive view. Experience beautifully detailed graphs that provide insights into your internal linking structure and page depth with utmost clarity. Identify orphan pages and analyze the inlinks and outlinks to your main pages. Gain a comprehensive understanding of your website's architecture with ease and make informed decisions to enhance its performance.
Ensure a robust website architecture
A well-structured website is a fundamental pillar of your SEO strategy. Coherent page distribution is essential for providing seamless navigation to both users and search engines.
The impact of your site's structure on user experience directly affects your website's rankings. That's why it's crucial to maintain a vigilant approach and conduct regular audits to track any implemented changes. By prioritizing a robust web structure, you can elevate your SEO efforts and ensure long-term success for your website.
Unlock the Power of SEO-Optimized Website Architecture
Crafting an SEO-boosting website architecture is an art worth mastering. Remember that a well-structured webpage entails multiple levels of navigation, strategically placing the most vital and captivating pages, such as categories, at the top and linking them from the homepage. From there, less prominent pages can be interconnected, organized by thematic relevance. Think of it as an inverted tree or a company organizational chart.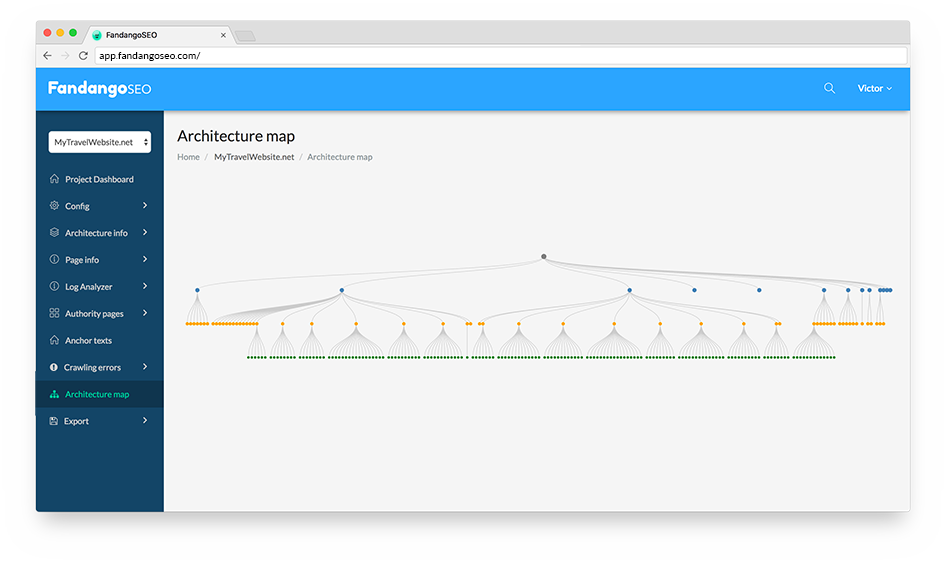 Your website's architecture not only dictates how well your pages are interconnected but also communicates the authority assigned to specific categories, products, or services based on the links they receive. The more high-quality links they acquire, the greater authority they gain. To optimize your website's architecture, we recommend grouping your pages by topics and subtopics, linking them from their corresponding categories, and establishing cross-links among similar products or services. The key lies in ensuring that all pages can be easily accessed within a few clicks, providing a seamless user experience while boosting your SEO potential.
What can FandangoSEO do for my architecture?
Experience the Power of the Architecture Map: Gain Clear Insights into Your Site's Structure.
Unlock a clearer understanding of your website's architecture with the revolutionary Architecture Map feature. This interactive tool empowers you to visualize and comprehend the intricate connections within your site effortlessly. Evaluate the effectiveness of your internal linking strategy with ease and ascertain if your pages are linked optimally. Seamlessly navigate through your site's architecture and make informed decisions to enhance its overall structure.
Reduce the navigation depth
Optimize your website's navigation by identifying the number of pages per level and pinpointing those that require excessive clicks to access. Our tool allows you to effortlessly elevate such pages to higher levels by generating user-friendly sitemaps or linking them from relevant categories. Stay informed about the modifications you've made to your site's architecture using our handy comparison tool, which provides insights based on previous crawls.
Identify inlinks and outlinks
Explore the linking profile of your main pages with our search bar. Introduce the URLs that you want to study in order to obtain the incoming links and the outlinks. We let you customize this search to have a more accurate result depending on your strategy needs and curiosity.
List the anchor texts
Ensure the optimal usage of anchor texts for both internal and external links by examining the primary references you employ to direct users to your pages. By proactively analyzing this information, you can effectively avoid potential penalties from Google's Penguin algorithm.
Find orphan and unindexed pages
Compare the architecture maps of your crawls to the resulting from the Log Analyzer to find the pages that are no longer linked from your website (orphan pages). You can also detect the pages that Google hasn't indexed but are relevant to your SEO strategy. This way, you'll be able to make any adjustment, such as generating HTML sitemaps or refreshing the XML ones.