Visualize the structure of your website to understand and optimize the internal linking structure. Thanks to our detailed graphs, you will be able to easily picture the navigation depth, identify the in and outlinks to your main pages, with anchor text, and find the orphan and unindexed ones.

Ensure a strong website architecture
Before building up a website we must understand our objective, plan how we will meet our goals with the correct website structure, and pre-test the pages' distribution. This initial study is crucial if we want to offer to both users and search engines a very comprehensive navigation path.
The first step is to understand the meaning of your pages in order to categorize and distribute all the content to provide a smart customer journey. If the website hasn't been raised correctly, you'll need to readjust it later by changing the internal linking structure and wasting a lot of time.
How do I define the website architecture?
Remember that a nicely built webpage will present different levels of navigation, having the most important and compelling pages -i.e.: categories- at the top (linked from the home page), and the less important ones linked from them and split by thematic. Just as an inverted tree, or a company organizational chart: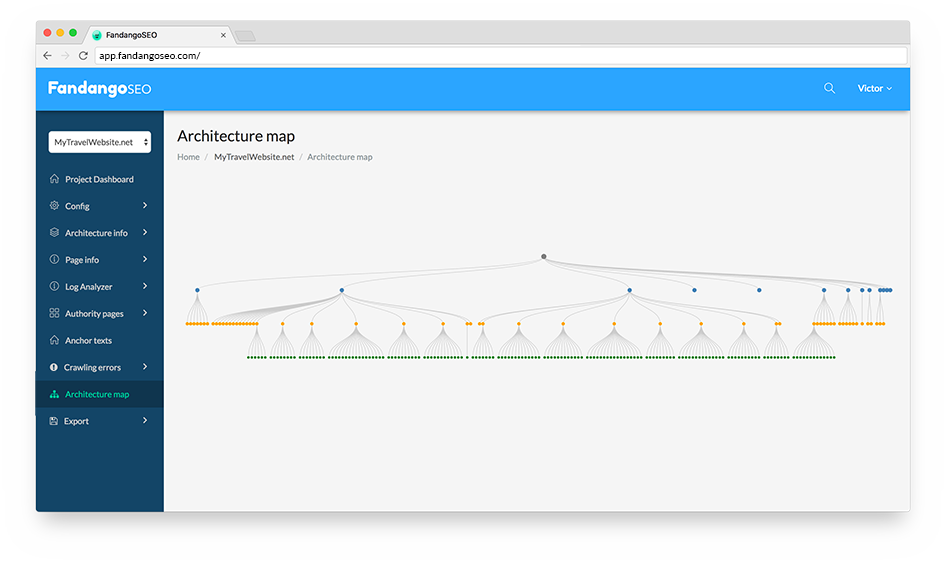 The architecture of a website tells the search engines how well you connect your pages, and what authority you assign to specific categories and products or services depending on the links they receive: The higher they're found on your map and more relevant links they receive, the more authority they acquire. You'll want to group your pages by topics and subtopics, linking them from their corresponding categories and crossing links among similar products or services. The key is to make sure that all the pages can be found in a few clicks, and that you add relevancy to the user's visit.
What can FandangoSEO do for my architecture?
Detailed graphs
Thanks to our visual architecture maps, you'll be able to easily picture the real architecture of your website. This interactive map will let you discover how you interlink your strategic pages or which ones are receiving less authority and must be pushed with more and better links.
Reduce the navigation depth
We'll show you the number of pages per navigation level so you'll have a list of the ones that are reachable with too many clicks. Relocate those to a higher level by creating sitemaps with our tool, or link them from related categories found in very few clicks. You can check the changes to your architecture with the comparison tool looking at previous crawls.
Identify inlinks and outlinks
Explore the linking profile of your main pages with our search bar. Introduce the URLs that you want to study in order to obtain the incoming links and the outlinks. We let you customize this search to have a more accurate result depending on your strategy needs and curiosity.
List the anchor texts
We offer you this added value, all in the same place without switching platforms. With our tool, you'll be able to know the main anchor texts used to refer to your pages for both internal and external links. Having this information beforehand, you'll be able to prevent Google penguin penalties.
Find orphan and unindexed pages
Compare the architecture maps of your crawls to the resulting from the Log Analyzer to find the pages that are no longer linked from your website. You can also detect the pages that Google hasn't indexed but are relevant to your SEO strategy. This way, you'll be able to make any adjustment, such as generating HTML sitemaps or refreshing the XML ones.
Visualize the structure of your website with FandangoSEO to understand and optimize your internal linking structure.