Yes, everyone is talking about ChatGPT and its incredible capabilities. Many wonders if it can benefit our daily SEO tasks including content creation. The short answer is yes! However, you must know how to ask the right questions in order to get the most out of it and make it profitable for SEO.
Here are seven SEO tasks where Chatgpt can help you wonderfully and the best prompts for each occasion.
1) Categories & Keyword Suggestions
A quick way to get keywords for your website is to simply ask the bot for a listing. Specify the type of website, and request to sort them by category.
Prompt: "What are the best keywords grouped by category I can use to position my pastry and baking recipe website?"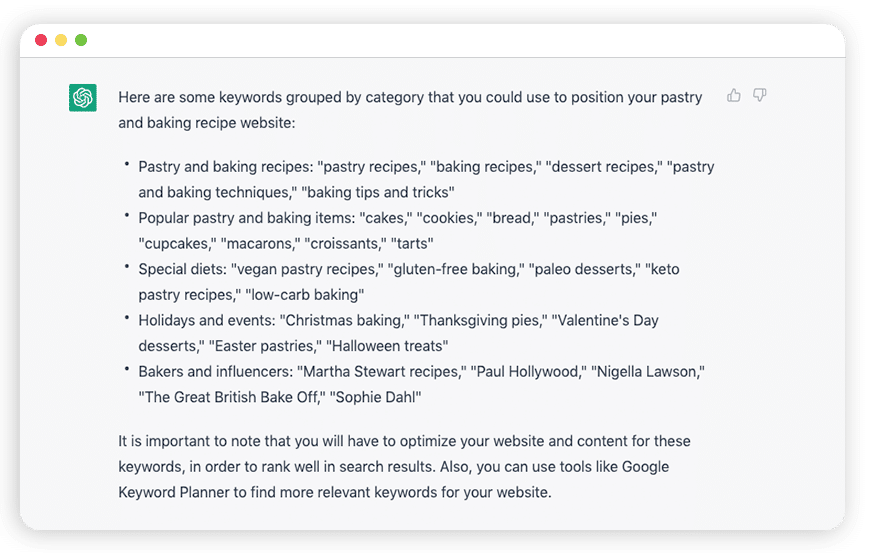 2) Search Intent Grouping
Let's say you have made a list of keywords by performing an exhaustive analysis. Ask the bot to categorize them for you by search intent. This way you'll know the best way to utilize them throughout your site.
Prompt: "Please categorize the search intent from the following list of keywords."
(List your keywords)
Example:
Pastry recipes
Baking recipes
Dessert recipes
Cake recipes
Cookie recipes
Bread recipes
Pastry techniques
…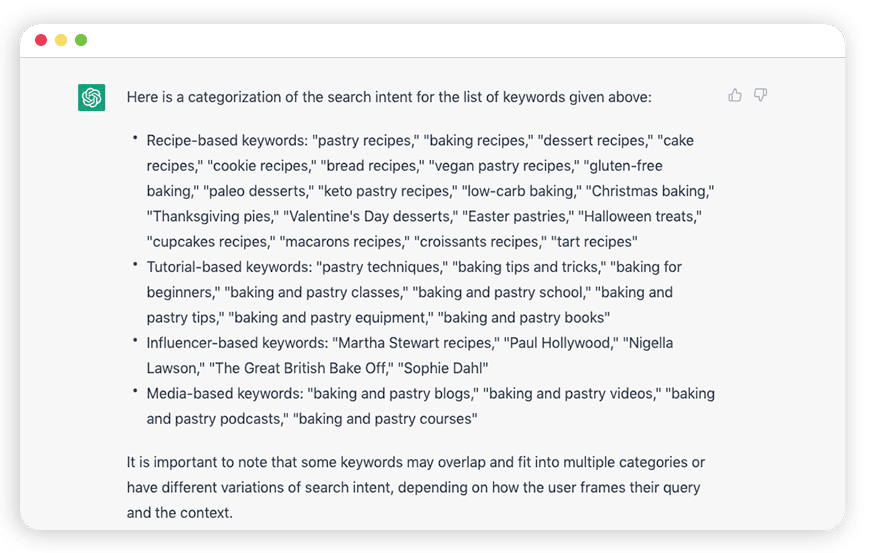 3) Create catchy SEO titles
You can also use ChatGPT to come up with attractive SEO titles that drive traffic to your site.
Prompt: "Please generate eye-catching, creative titles with a high CTR for the best cheesecake recipe."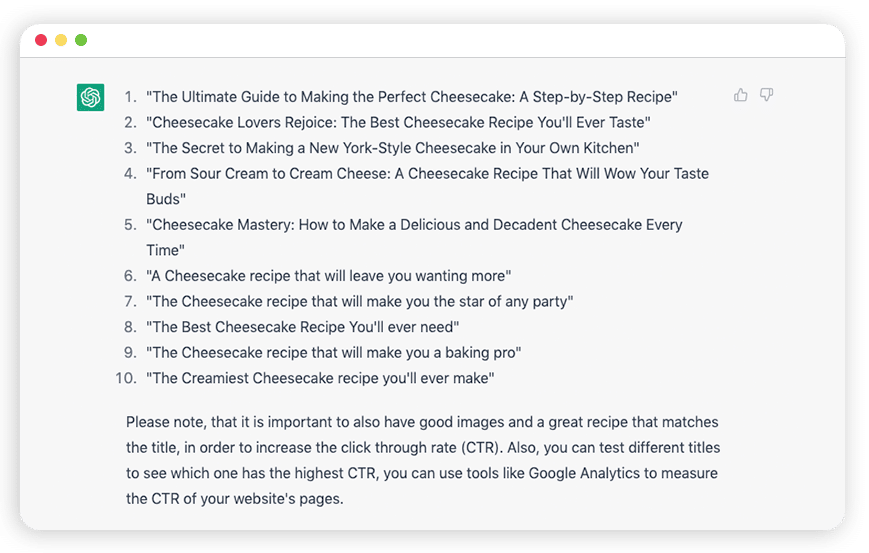 4) Generate meta titles & meta descriptions
Meta titles and meta descriptions are another SEO element the bot can generate for you. Indicate the page with the URL so the bot can extract relevant keywords and provide better results.
Prompt: "Can you come up with a good SEO title and meta description for https://sugarspunrun.com/best-cheesecake-recipe/, this is a page where a quick recipe for a cheesecake is shared."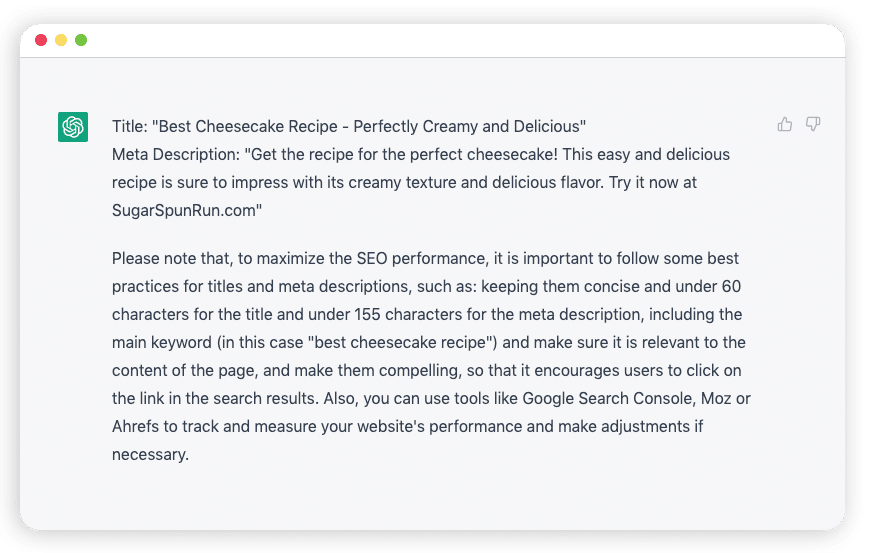 5) Get code snippet examples for keywords
Go one step further, and ask the bot to generate title and meta tag codes. Choose the one that fits you best!
Prompt: "Please show the best title and meta tag code examples for SEO using the keyword Cheesecake recipe".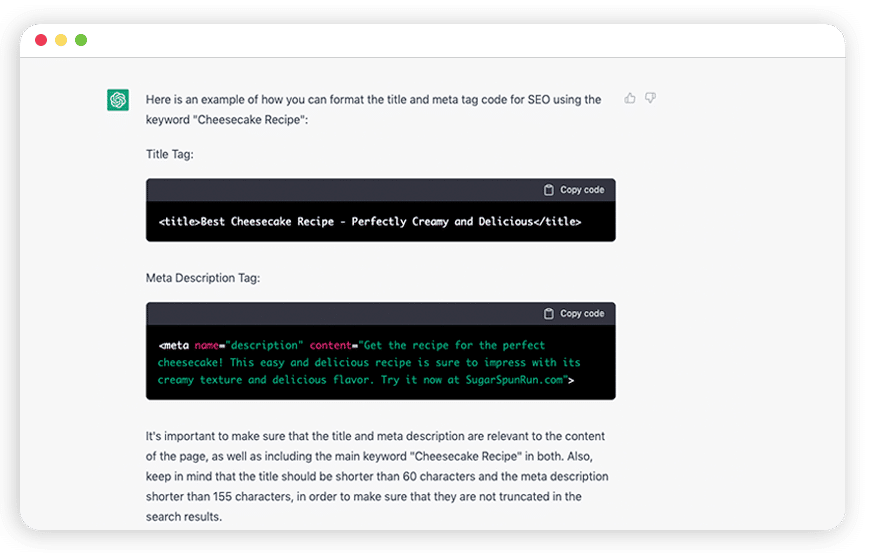 6) Come up with great blog post ideas
Do you need content for your website but don't know what to write? ChatGPT never runs out of inspiration. Ask him to offer you effective content ideas for SEO.
Prompt: "Give me some ideas on blog posts for a bakery website that help me improve my SEO."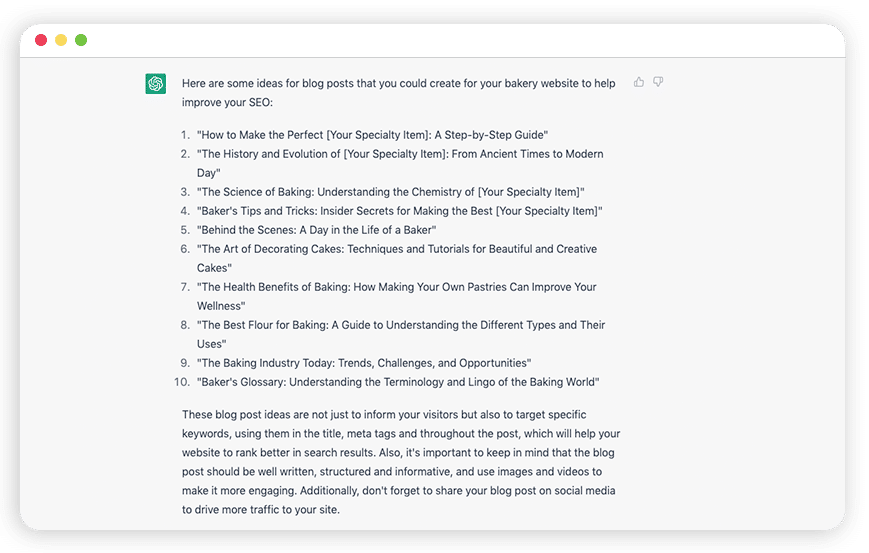 7) Create a draft of an article
Once you have chosen the subject ask ChatGPT for a draft. You could directly ask the bot to write the blog post with the topic you have picked, but creating a draft first will give you a complete article.
Revise the draft to suit your preferences with the help of ChatGPT and when you are satisfied, ask it to write the script for you by following the outline.
Prompts:
Step 1: "Write me a blog outline with headings for The Health Benefits of Baking: How Making Your Own Pastries Can Improve Your Wellness."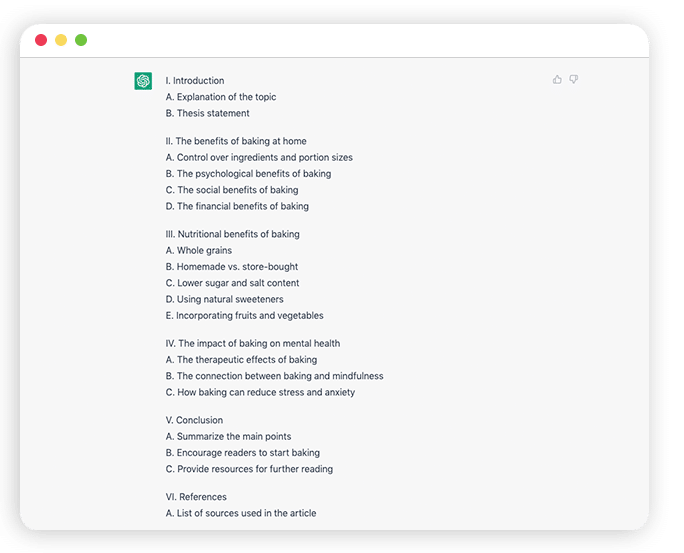 Step 2: "Write an article based on the outline above."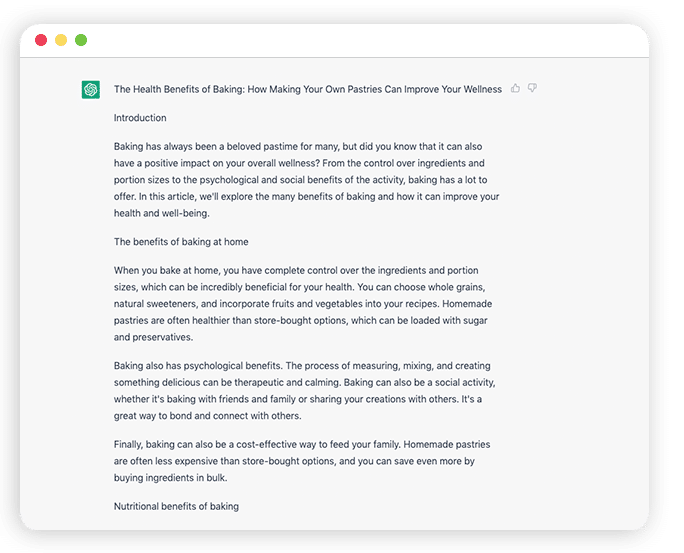 As you can see, you need to be specific when asking questions to the ChatGPT and provide adequate information so it can generate better results. You can use the same question format we just gave you by simply adapting it to your website type. It's a wonderful tool that will make your SEO tasks much easier.
Last Updated on February 27, 2023 by Hannah Dango