Do you know how Log Analysis can improve your SEO? Learn the benefits of analyzing your log files and how to do it to get the most out of it. In this article, we show you how to perform an effective Log Analysis step by step.
What is log Analysis?
Log files contain the history of the requests that a web server receives. Analyzing these files, we can measure our web SEO performance. In more detail, we can see how often search engines have visited our website, which pages are accessed most frequently, what status codes we're returning, and if we've got an orphan page.
Simply put, log analysis turns log files into data useful for SEO.
Why is it good for SEO?
Log analysis provides actual information about search engines behavior. When you launch a crawl of your website you can see, for example, if your pages are accessible to search engines, your web architecture and HTTP status codes, but with log analysis, you can go one step further.
Analyzing your log files, you can accurately observe how GoogleBot crawled your site within a given period. The "Hits" or requests that search engines made to your server. This not only helps you detect any crawling error that would not be found any other way, such as orphan pages but also understand if your crawl budget is being spent efficiently. Log Analysis is the best way to check if you are on the right track with your SEO strategy.
Optimize your crawl budget using Log Analysis
Crawl budget is the number of pages GoogleBot will crawl on your site within a given timeframe (usually a day). The bot crawls your site visiting a sitemap (if any) or following the links that go from one page to another like a spider. It also checks your robots.txt to follow its crawling guidelines and static files.
That said, Google needs to find your web pages of high quality to decide to spend its time and resources to crawl them. In that sense, you need to avoid crawling errors such as pages not found, redirects, or server errors. Also, you want to stay away from low-quality content, such as thin or duplicated text.
Make sure that the most relevant pages within your site (those you especially want Google to index) remain at a lower page depth level (0,1,2,3) and have internal links pointing to them. In this way, you'll provide them more page authority, making them more attractive to search engines.
Using Log Analyzer, you'll quickly find out if the pages with the most hits (or visits) match those pages you want GoogleBot to spend more time on. You'll also see if there are significant pages that go unnoticed by search engines. In that case, you'll need to take action to make them more valuable to Google.
The easiest way to do a Log Analysis
Log file analysis can seem quite complex and time-consuming, and it actually is. The good news is that you can use SEO tools specially designed for it, such as FandangoSEO. You won't need to be an expert to extract all the relevant SEO data. Instead, you only have to give access to your log files.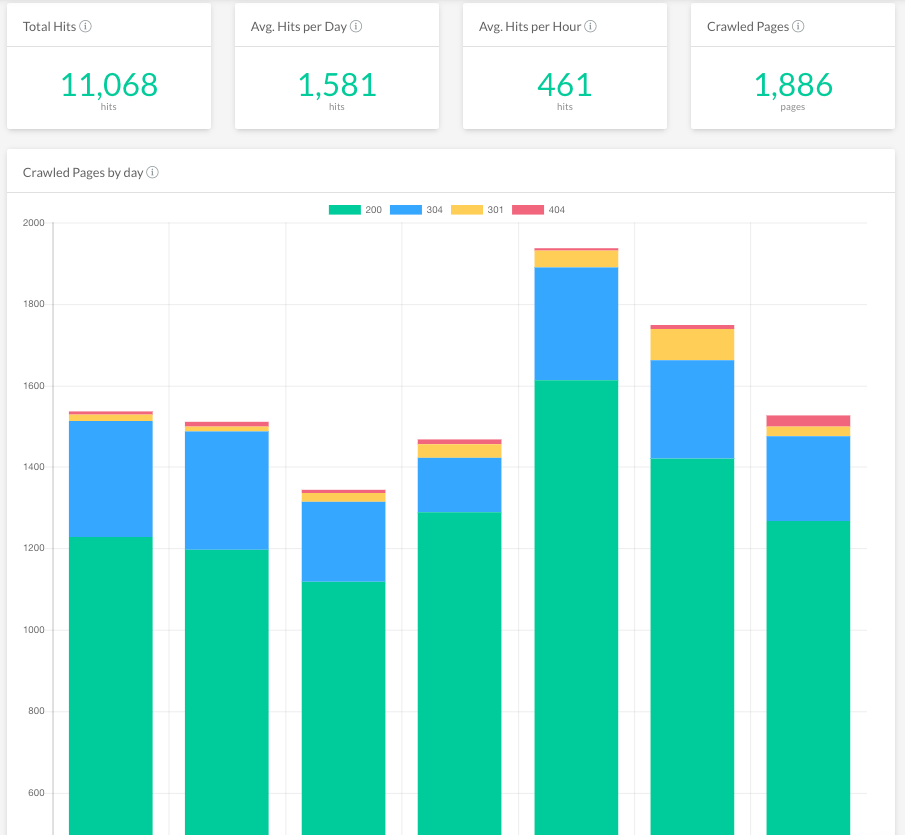 At FandangoSEO's Log Analyzer you can visualize the total hits of your website, the average hits per day, the most crawled pages and all the status codes that your site is returning to GoogleBot. All the information is displayed in graphs, URL lists, and with specified values. It is an intuitive platform where you can check your log files data of the entire site, or more specifically, by selecting one page or PageType in particular.
In order to configure your Log Analyzer at FandangoSEO, you can upload your log files manually or add access data so the system can connect to an S3, FTP or SFTP. FandangoSEO works with any type of log and allows you to use the configuration of Apache, Nginx, Amazon, or a Custom Log Format with which we can adapt to any format. You can also set the periodicity in which you want the logs to be downloaded.
It is possible to establish several programs if you have your log files saved on different web servers.
Did you find this article helpful? Let us know if you have any questions about Log Analysis in the comments below. We'll be happy to help you perform a successful Log Analysis. 🙂