Are you wondering what exactly International SEO is? In this article, we provide you a brief explanation of it as well as some best SEO practices.
Simply put, it's Search Engine Optimization for websites operating in multiple countries.
If you have a multilingual website, you have to take special measures to ensure that search engines index all its versions properly. Unless you make some key specifications, you'll leave it up to chance to determine whether each version is filtered to its respective geographic location.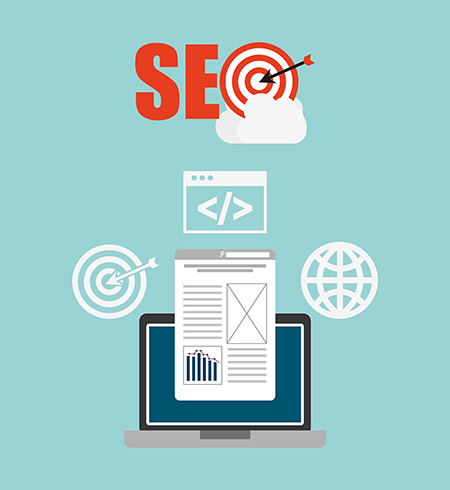 Optimizing a multi-language website for international audiences involves three key considerations: localizing global content, choosing the most appropriate website structure, and optimizing the hreflang attribute.
Localize your content
Before you decide what will be the best strategy to optimize your site internationally, you should do a little preliminary research. While doing so, you will be able to make informed strategic decisions that shape up your international SEO strategy.
One of the key decisions you have to make involves establishing your international target. Will you optimize for different languages or different countries? To choose the best option, you must investigate whether the traffic potential and local market dynamics justify creating separate website versions for each country.
As you investigate the international audience, you will dig deeper into local online buying preferences and cultural factors. This will help you make decisions best suited for the actual demographic characteristics. You can make a very educated guess simply by looking at the choices already made by your direct competitors or even other international websites operating in the same markets.
By looking into what others do and running a little keyword research for each language and country, you'll know how to best structure your website for international SEO. Plus, you'll get an idea of how to carry out the optimization.
But before you can start optimizing your international versions, you have to first make an important structural decision.
Website structure for International SEO
No matter if you decide to split your website by language or country. You have to make a fundamental technical decision that sets the stage for International SEO. How to best structure your website URL to filter down the separate versions.
You have three main options available to achieve this: CCTLDs (country code top-level domains), subdomains, and directories. Let's briefly overview each of these options.
Choosing CCTLDs involves registering a separate domain for each international version of your website. In this case, each domain supports the appropriate local country code (yourwebsite.us, yourwebsite.co.uk, yourwebsite.it, and so forth). At first sight, this may seem like a good idea. However, it can involve hefty expenses as you keep piling up domain registrations. Additionally, it requires additional bureaucracies in some countries. This option is only viable and useful for big-budget companies looking to focus on individual countries separately.
Using a subdomain to filter international versions of your websites is a more common option that is technically less demanding and less costly. This involves creating separate subdomains of your website. Each targets a different country or language (us.yourwebsite.com, uk.yourwebsite.com, it.yourwebsite.com, etc.). Each subdomain will host a different version of your website that is fully optimized for that language, allowing for more precise and manageable international optimization.
The simplest available option involves using sub-directories in your domain to serve different versions (such as www.yourwebsite.com/uk/, www.yourwebsite.com/uk, www.yourwebsite.com/it, and so forth). This option is the simplest to implement out of the three. However, it can be hard to manage if your website has many versions that involve ongoing content creation and optimization.
Any of these options will require you to optimize each website version separately with relevant local keywords, meta tags, and translated content.
If you choose to keep all your international website versions running from the same TLD (either through a subdomain or directory), you must use the hreflang attribute to clearly separate each country-specific website. Here's how to do it:
Hreflang optimization
In case you're not familiar with hreflang, it's simply an HTML attribute used to specify international content by specifying meta tags for each country and language in the actual web page code. This is done on individual pages by adding the attribute HTML lang="??", where you replace ?? with the specific country/language meta tag (such as en-US, en-UK, it).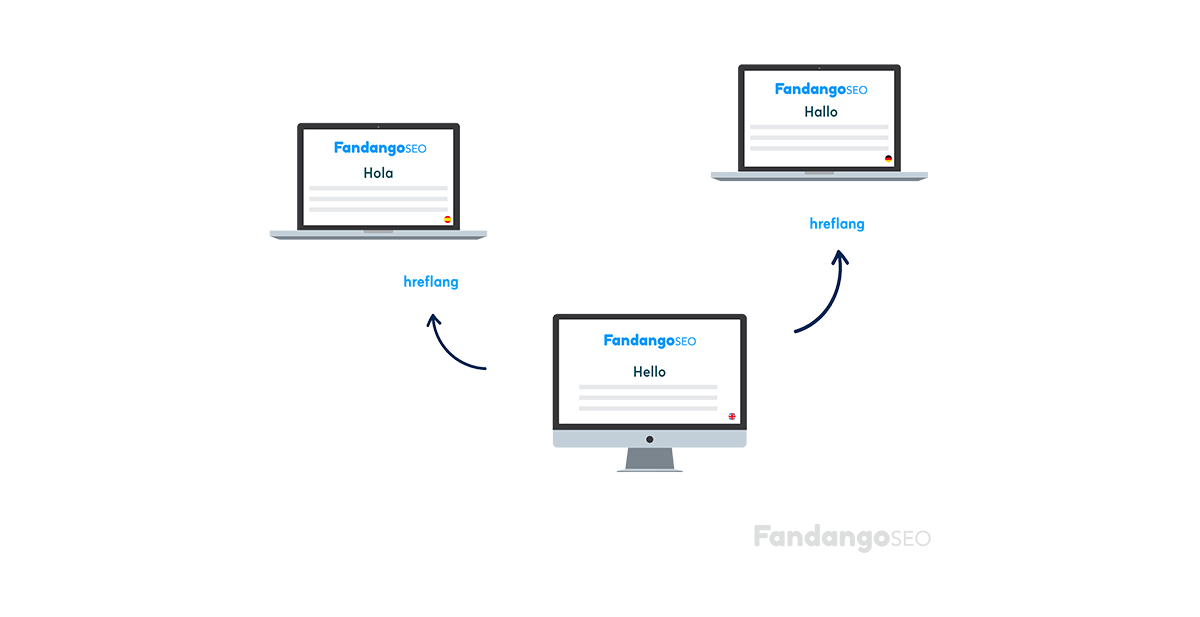 By using this attribute to declare the language associated with each HTML section, you can help search engines understand how your website is split into different languages. Each one is optimized locally with the appropriate keywords and meta tag information.
As you can see, International SEO is not really that complex. Its' actually all about using the same SEO practices you know, except you have to articulate them across different website markets and website versions.
8 Best Practices for International SEO
Now that you know the basics of international SEO let's go one step further. Here are eight international SEO tips you should follow to expand your business successfully.
Pay special attention to the experience on the page
Every time Google makes an update, it clarifies that the main focus is on the on-page experience. An excellent example of this is the Core Web Vitals, which will become a ranking factor in May 2021.
If this is something to keep in mind in SEO in general, it is also crucial for international SEO. When optimizing the page's experience, it is necessary to focus first on indexing the mobile version in all those countries where the site operates.
Be careful with the use of automatic translations
Machine translation may seem to make things easier, but it is better to avoid it in reality. It is common for translation errors to appear because of certain aspects of the language that the machine cannot understand.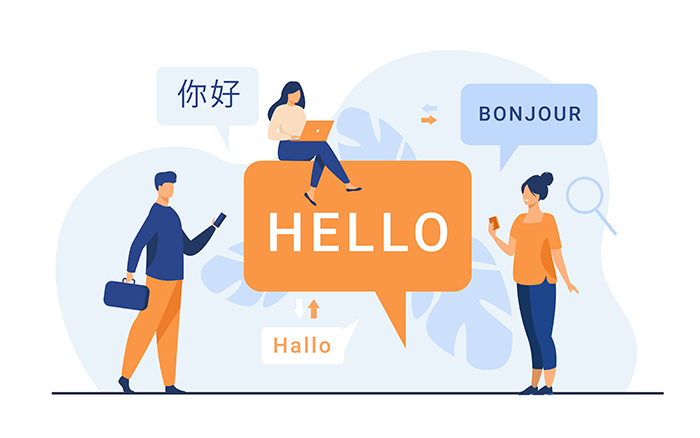 And the truth is that a poorly done translation will not be beneficial for your page ranking. So, it is essential to go for translators who can understand the context of your text. This is an excellent way to safeguard your reputation with local users right from the start.
Remember that in each country, the keywords and SERPs will vary.
Regardless of whether Google's algorithm works universally, the truth is that SERPs change according to the area. When searching for a service in Italy, the results you will get will have nothing to do with those that appear if you make the same query in Canada.
You should start with SERP analysis if you are going to target a particular keyword in different countries. And you also have to look at the changes in the search volume of your target keywords. Depending on the location, there will possibly be terms that will better meet the user's intent, even if the translation is inaccurate.
EAT: three criteria to consider
EAT (experience, authority, and trustworthiness) are listed in Google's Guide to Research Quality Raters. It consists of parameters that help build trust. They are essential on any type of page. Especially in those dealing with YMYL (your money, your life) topics. It is, therefore, unthinkable to overlook them if we talk about best practices in International SEO.
Based on this, some of the main aspects you should focus on, among others, are:
Creating your brand.
Improving the technical security of your site.
Having the authors' names and biographies on editorial content.
Take into account both local and international research trends
The pandemic has caused significant changes in the volume and behavior of research. However, it's true that our preferences are continuously varying and that a trend can be very different from country to country.
There are tools such as SEOmonitor or Google Trends very handy to research keyword volumes and trends. Additionally, Google's Year in Search also provides information on the market in which you are operating.
Make your plan and put it into action
No matter how much analysis you do in the SEO world, in the end, you can't draw conclusions until you test. Once you experiment, you can create a roadmap and execute it.
To do this, you must divide your list of technical elements into SEO, content, and linking. Once you've done this, you will be able to create your optimization program.
Make good use of redirects and canonicalization
Redirects and canonical URLs play a fundamental role in a website, but you need to treat these elements properly. You should be aware that while the 301 redirect directs to another page, the canonical tag only suggests to the search engine.
When implementing them in International SEO, make sure that redirects and canonicals do not contradict the hreflang.
Add a multiple sitemap structure.
The importance of using XML sitemaps is indisputable, as they inform search engines which URLs to crawl on a website. But for a site to be indexed better and get more traffic, adding a multiple sitemap structure is advisable.
This idea is not only beneficial for websites that have a considerable size but also for smaller ones. In all cases, it helps to make them clearer and to simplify future diagnoses.
Using sitemap index files and dividing sitemaps according to regions makes it easier for search engines to understand the web structure and get to its contents.