Use the FandangoSEO extension, the Free SEO Chrome Extension, to check the SEO performance of any page in a few seconds. With a single click, you can examine the metrics that search engines consider to determine if your website is of quality (Title, meta descriptions, header tags, site speed, internal links, etc.).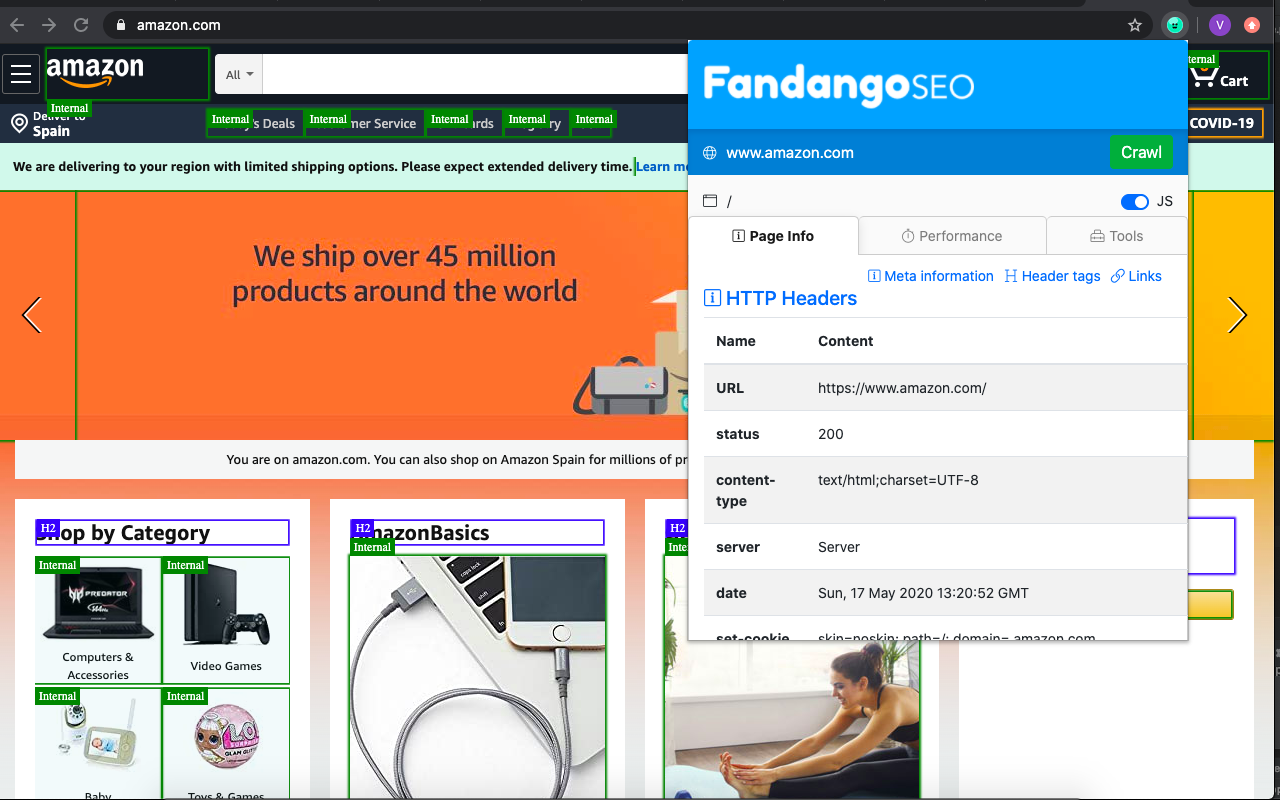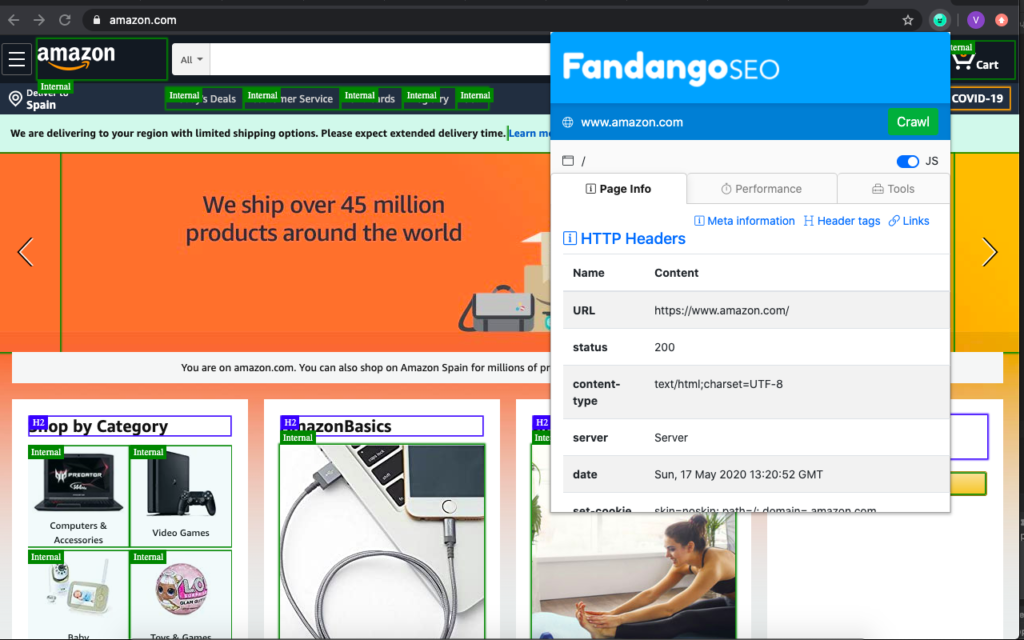 Improve your On-Page SEO
Conduct performance tests without leaving the page through the most powerful tools on the market today (WebPageTest, GTMetrix, Page Speed Insight, Lighthouse).
Find redirects and redirect chains that harm your SEO performance.
You can even activate or deactivate the Javascript on your page. This feature will allow you to check the main differences between having the Javascript enabled or disabled, and to detect rendering problems.
Forget about having multiple extensions to get your SEO under control. With this single one, you'll be able to do an exhaustive SEO analysis that generally requires three to four extensions.
BONUS! Run a technical SEO audit in just a single click against any website you've got open. 
You can crawl all your Website up to 1500 URLs for FREE
Take a look at the available packages with which you can crawl up to 20 million pages.
Download the SEO Chrome extension now and check your SEO performance instantly!
In the FandangoSEO extension, you'll find the following tabs to perform detailed audits in record time:
Page Info
Redirect Chains
Performance
Tool
Page info
Here are those metrics that you should check when evaluating the quality of on-page SEO. Make sure that all these items are well optimized.
SEO Metrics
Meta title:
Find out if you've got a meta title tag on your page. There should always be a meta title.
Remember that it is vital to have a good one to capture the searcher's attention on SERPs. With it, you also provide valuable information on what your page is about to both users and search engines.
Meta description:
Check if the page has a meta description. As with meta title, there should always be a meta description. An excellent one will tell users seductively what they can find on your page. It increases the CTR and lowers the bounce rate.
Meta robots:
See if Meta Robots is affecting your indexation. 
Does it have an index or noindex tag? Make sure it has the right tag.
Hreflang:
Does the page have an Hreflang tag?
If your page provides content in several languages, you may consider using Hreflang. This tag helps search engines to differentiate a web page from its original version and allows them to display the language that corresponds to each user.
Canonicals:
Does the page contain a canonical tag?
Think if you are duplicating the content of this page by displaying it on another page of your website. If the answer is yes, consider adding a canonical tag. This way, you'll avoid Google Penalization for duplicate content.
AMP:
Is it an AMP page?
Accelerated Mobile Pages, as the name indicates, help your pages load faster on mobile devices. Check if you are implementing the AMP on the page.
Http Headers:
Easily visualize HTTP headers
Every time your web browser opens a page, it sends a request that includes a series of HTTP headers. Instantly check which ones the current page is sending.
Robots.txt: 
Does your robots.txt exist? 
Validate that your website is using a robots.txt file and that it returns a 200 status code. 
This is a must for GoogleBot to crawl your website.
Header Tags (H1-H6):
Visualize all your header tags so you can review them right away. Check if you have any short header tags to see if you can add any relevant keywords. All your H1 to H6 headers will be marked on the page so you can locate them quickly.
Page Links:
Get a list of links found on the page: Internal, External, Nofollow, Sponsored, and UGC.
Select the desired link type to mark it in the HTML. This way, you'll quickly find out which links you have on the page. 
⛓️ Redirect Chains
Make sure you don't have redirects or redirect chains. 
Get rid of redirect chains to avoid crawling issues and to prevent drops in Google Rankings.
Performance
Check the web performance of your page through the most effective tools that we can find in the market today. You'll be able to get the results in a single click without having to leave the current page.
Get the performance data from the following tools
WebPageTest
Run a speed test choosing from multiple locations around the world and selecting any browser. You can run a simple analysis or advanced tests that provide a rich diagnosis.
GTMetrix
Obtain detailed reports of your page speed performance using Google Page Speed and YSlow. GTMetrix rates your page and offers actionable recommendations for improvement.
Page Speed Insight
This tool was designed by Google to analyzes the content of your website and give you hints on how you can speed up your website. It offers advice with actionable guidelines.
Lighthouse
Lighthouse is an automated open-source tool developed by Google to audit the quality of your site. It provides you information on how you can improve the performance, quality, and correctness of your web apps. 
Tools
Use the following validation and other tools to quickly find any errors that can seriously harm the performance of your website. 
Javascript switcher: Enable or disable Javascript on your website and analyze what content is displayed.
HTML Validator: Check the HTML web elements with the W3C validator for any syntax or format errors.
HTTP/2 Validator: See if a domain uses HTTP/2 protocol
SSL Validator: See the current status of your SSL certificates and make sure that they are not expired. They should be at least 2048 bits.
DNS Validator: Obtain a DNS report. See what DNS servers are using the domain of your selected website. Ensure that they're the right ones and check their performance.
Download the SEO Chrome extension now and check your SEO performance immediately!