Header tags are one of those elements in SEO that can significantly impact when positioning a page, although they are not directly a classification factor. Want to find out why? Keep reading! In this article, we explain the importance of proper header tags and how you can use them to boost your SEO.
What are header tags?
Header tags (also referred to as H tags or heading tags) are HTML elements used to introduce the titles of content on a web page. They have a hierarchy from H1 to H6 to define six levels of headings. Thus, the H1 would be the document's main title, from which all the others would start. The H6 would be the last one, but it is rarely necessary to go beyond the H4.
Schematically we can say that the H1 tag is the subject or main title of the page. H2 is the subheadings. And finally, H3, H4, H5, and H6 break the content of the subheadings into sections to give them structure.

Why are H tags important?
The importance of header tags is that they help to better understand a text's structure on a web page. They also affect the page ranking in two ways.
On the one hand, heading tags serve for classification purposes since Google looks at them to comprehend the content and give it meaning. Therefore, a good structure allows Google to match the content to your target's search queries.
HTML header tags also indirectly help page ranking, as they improve the user experience, presenting content in an orderly manner. Users can then find what they are looking for easily, so they stay on the page longer (reducing the bounce rate).
Therefore, given the importance of headings, it's vital to use them correctly. You need to conduct in-depth research and use the right keywords (of course, without doing any keyword stuffing, since this is a practice that no longer works today).
Headings should be relevant to the content of the page and sound as natural as possible.
7 good practices for header tags
Now that we know why header tags are essential in SEO, let's see how to implement them properly: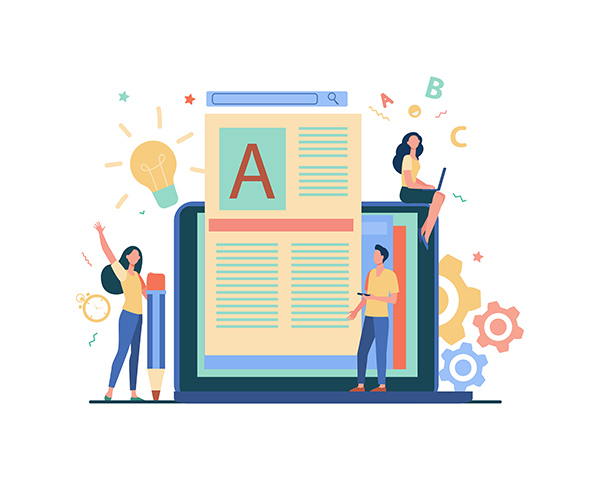 1- Use the headings to create a good structure
Header tags provide structure and context to the article. Each of them has to give the reader an idea about the information they will find in the text that follows.
2- Add Keywords In Your Header Tags
Google also takes headings into account to understand the context of the page. Therefore, it's worth including keywords in the header tags, as they are a valuable source of information.
3- Use a single H1
Contrary to what many people think, Google has clarified that using multiple H1s on a page won't harm your SEO. But that doesn't mean it's a good practice since readers consider H1s as the main title, and it may be confusing to provide more than one.
4- Create Interesting Headings
The page's initial draft may have less eye-catching headings, but it's essential to conduct brainstorming to choose the most attractive title. This is a rule to follow for all headers, but especially for the H1.
5- Split Text With Header Tags
The text must be easy to read because it's more likely to work well in search engines. And for good readability, the contents must be well structured.
Social media shares are not a direct classification factor, but the more a post is shared, the more likely it is to get backlinks, which is a ranking factor.
6- Optimize Headers For Featured Snippets
Header tags seem to have a positive impact on ranking in Google's featured snippets. Here are some promising practices:
Optimize header tags for long–tail keywords suitable for voice searches, and then provide the answer to the query below, using text within <p> paragraph tags.
Use smaller subsequent titles to outline different list items. This way, you'll have a higher chance to rank for numbered or bulleted list snippets.
7- Keep Consistency In Your Header Tags
It's advisable to maintain a consistent experience for the users since even the smallest detail may affect the UX. For example, if you choose the upper and lower case format, you must do the same on every page of the site.
Final Thoughts
Although header tags are not a direct ranking factor, they do help with positioning. Hence the importance of not ignoring any detail and creating thoughtful headings attractive to your target audience.
Last Updated on January 16, 2023 by Hannah Dango